Hotel California: Where's the Exit? California income tax rules for trusts, business and individuals who want out (or thought they were out)
Date:
Tuesday, May 18, 2021
Speaker:
Brian Rowbotham and Brian Shetler
Registered for this event? Login now to view additional event details.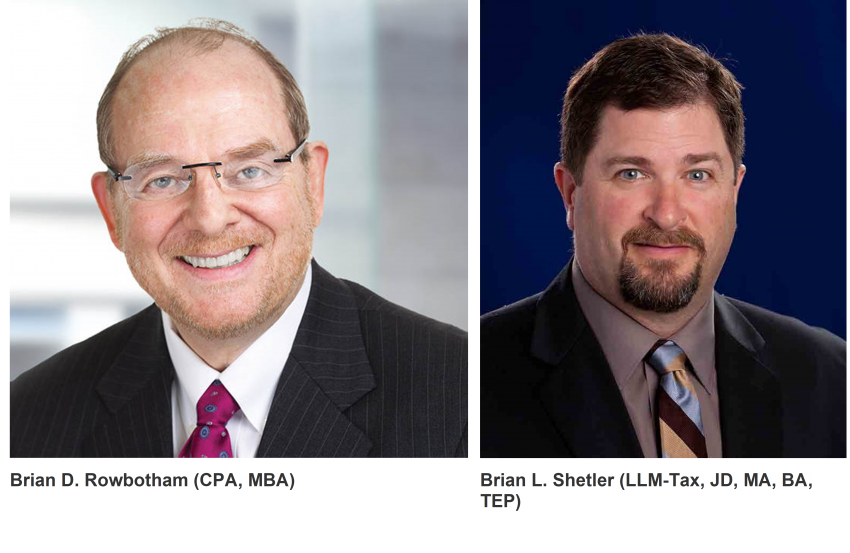 We will open the Zoom meeting at 7:15 am for networking! You will be assigned to a breakout room to network with fellow Council members and guests while you enjoy breakfast. It'll be just like sitting at a table at the Westlake Village Inn!
Register by Tuesday, May 11 for breakfast delivery!
Attendees will receive the Zoom link the day before the event and again the morning of the event.
About the Event
California has unique rules to tax the income of trusts, business and individuals who may think that they have effectively exited the state. While there is always an influx of residents to the Golden State, there
are often more who have made enough to want to exit this relatively high‐tax jurisdiction (particularly higher for those with higher incomes). This talk will cover rules for the unwary in planning for exits and compliance for the departed for trusts, businesses and individuals. The speakers will cover the unique set of trust residency laws for trusts and
techniques for exits and sourcing rules for California tax that grab the unwary who have exited or have never even become tax residents. Bring your questions and join in the lively discussion.

About the Speakers
Brian D. Rowbotham (CPA, MBA): Mr. Rowbotham has over 35 years of experience advising U.S. and multi-national clients on inbound and outbound tax planning. His clients include public and private companies in technology, social media, real estate, private equity funds. He is also active with global wealth and tax structure planning.

Brian L. Shetler (LLM-Tax, JD, MA, BA, TEP): Mr. Shelter is a tax partner at Berliner Cohen LLP who focuses his practice on trusts and estate planning and administration. He has a reputation for being a creative and strategic problem solver.