How to Take Risk
Date:
Tuesday, November 19, 2019
Location:
Westlake Village Inn
Speaker:
Kevin Cavanaugh & David Y. Lin, CFA, Clifford Swan Investment Counselors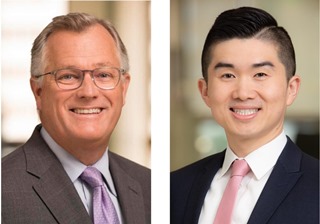 Most investors worry over how to control risk. Yet, many don't consider risk appropriately. In this session, Kevin and David provide an alternate framework to evaluate risk—one that focuses on purchasing power—and discuss the global investment opportunity set in the years ahead.
Kevin Cavanaugh is Principal and Investment Counselor at Clifford Swan Investment Counselors in Pasadena, California. Kevin joined the firm in 2011 after over 20 years of experience in the investment management industry, including founding an investment counseling firm in County Kerry, Ireland. Prior to that venture, he served as Chief Investment Officer of Palladian Capital Management in Los Angeles, which he founded in 1998. Earlier experience includes seven years as Executive Vice President of Cramblit & Carney, Inc., Los Angeles, where he managed client portfolios and performed fundamental research on equity and fixed income securities. Kevin began his career at CMB Investment Counselors as a research analyst and trader. He graduated from Loyola Maroymount University with a Bachelor in Business Administration and later an M.A. in Philosophy.
David Y. Lin, CFA, is an Investment Counselor with Clifford Swan. David joined the firm in 2018. He advises institutions, individuals and families, managing portfolios targeted to help them meet their financial goals. His experience in evaluating developed, emerging, and frontier markets contributes a unique perspective to the firm's investment discussions. Prior to joining Clifford Swan, David managed Clear Shore Group, a boutique investment advisory firm. As portfolio manager, he used fundamental analysis to find compelling long-term opportunities in international markets. In his work with families, he developed a strong appreciation for the role of financial planning and asset allocation in achieving client objectives. Previously, David served institutional clients as a managing director and global equities portfolio manager at Lombardia Capital Partners in Pasadena. David graduated from Claremont McKenna College in 2004 with a Bachelor of Arts in Philosophy, Politics, and Economics. He received a Master of Business Administration from Columbia Business School in 2010, graduating from the value investing program. David is a Chartered Financial Analyst (CFA) charterholder.
Related Document(s):